Since Monday 8th February, when Chinese New Year celebrations kicked off, it has been one non-stop feast over at School of Wok.
We started the festival with an appearance from Jeremy and Kampo on ITV's This Morning, demonstrating the ancient art of noodle-pulling with Holly and Phil.
After that we welcomed Michelin starred chef and good friend of the school Alfred Prasad, for a class featuring a rift on Indian Chinese cuisine including Momos; a Tibetan dumpling served with a tomato and garlic chutney, as well as more classic-but-refined Indian dishes, like the beautiful Seabass Moilee and Sago Coconut Kheer with Rose-soaked Water Chestnuts.
The crowd was buzzing through out the class until it came to the feasting. Then there was a hushed silence for inhaling, following by a leisurely post-feast table lingering while everyone sipped on some wine and began to digest.
Closing our Chinese New Year celebrations we hosted members of the Guild of Food Writers for a night devoted to the art of dim sum making. Hosted by guild member himself, Jeremy too attendees on a journey through the evolution of dim sum, by way of demonstration, discussion, as well as some hands-on activity. Needless to say as with all of our classes, but particularly so during Chinese New Year, the evening ended with a generous round of dumpling feasting, followed by some belly patting and more discussion.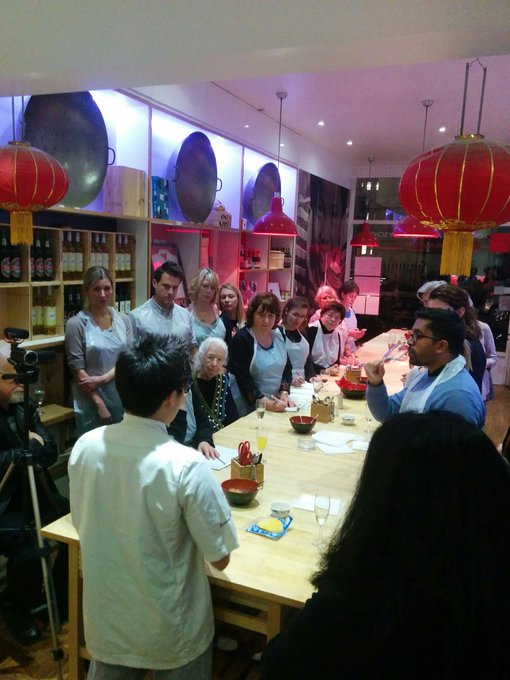 A very big thank you to any and all participants on these classes as well as others we've hosted at the school during our New Year celebrations. May the Year of the Monkey bring you good health, good wealth, and surround you with dear friends and family and of course, food!